Our Charity of the Month Program
As this first month of 2022 comes to a close, we've spent time reflecting on our successes in 2021 and our opportunities for improvement in 2022. One of the initiatives that we are the most proud of and have enjoyed the most this past year is our Charity of the Month program. 
Our Marketing and Leadership Teams collaborated to create our Charity of the Month program as a way to continue giving back to the community that supports us, despite the limits that the pandemic placed on in-person volunteer opportunities. Each month, we donate 5% of our total sales made on the last Thursday of the month to our charity of choice! Throughout 2021, we had the privilege of donating a total of $28,180.40 to well-deserving local charities and we can't wait to see what positive change we can help bring about in 2022!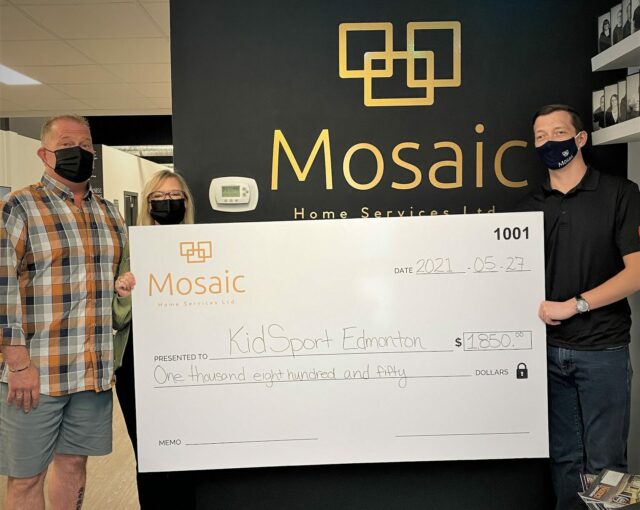 Kicking Off 2022 Right
With the last Thursday of January (Charity Day!) coming up very quickly, we wanted to proudly announce that for our January Charity of the Month, we are donating to… (drum roll please)… Lois Hole Hospital Women's Society! The Lois Hole Hospital Women's Society "provides expert patient care for women in all ages and in all stages of life." By focusing on both medical research and medical treatment for women, The Lois Hole Hospital Women's Society "serves as the center of excellence for women's health in Canada's northwest."
Our Mosaic Home Services Group of Companies is full of strong, incredible women that we are thankful for and proud of each and every day. We are, therefore, so honored to be able to provide support and donations to The Lois Hole Hospital Women's Society this month and contribute to improving and increasing research and treatment for women's health.

Let's Keep the Momentum
Don't forget to stay tuned on our Instagram, Facebook, and LinkedIn pages to find out how much we were able to raise for this amazing initiative! If you have any suggestions for local charities that we can work with in the future as part of our Charity of the Month program, please reach out to us by direct messaging us on social media or filling out the contact form on our website. Let's keep the momentum going and make our 2022 Charity of the Month program even better than it was in 2021!